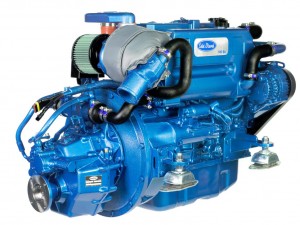 Sole Diesel SA is pleased to announce the introduction of the new SM-82 and SM-94 Marine Diesel Engines.
A world-wide exclusive for Seawork 2016, the SM-94 is making its first appearance on to the market at this week's show, and features a step forward in appearance and technical features to increase power and efficiency of this engine.
Both the SM-82 and SM-94 are based on the 3.3 Litre Mitsubishi marine engine, this turbocharged, mechanical fuel injection system engine, ensures the latest emissions legislation is met, but with the simplicity of a mechanical engine
The new SM-82, gives you 82bhp @ 2500 rpm, and the SM-94 gives you 94bhp @ 2500 rpm, both feature the new PRM 280 Marine gearbox, which can specified with a Live PTO clutch drive. The new product features, a compact and smaller water cooling system, new anti-vibration mounts, air filter, cover for the relays, V-belt protection guard, and better dipstick position.
Hedley Beavis, Sales Director at Engines Plus Ltd, the UK distributor for Sole Diesel commented "The new SM-82 and 94 shows Sole's continued development of their products, especially for the workboat market, we will be welcoming Jaume Collilis, Export Sales Manager of Sole, to the UK during Seawork, as he believes the exhibition represents a significant opportunity for the Sole product in both the UK and European wide"