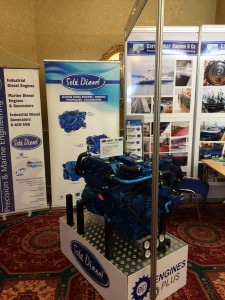 Sole SA is pleased to appoint Engines Plus Ltd as their new distributor for the Republic of Ireland for all products within their portfolio including marine engines, generating sets and accessories.
Engines Plus Ltd has been the UK distributor for the Sole products for the last 4 years, with many years of experience within the marine market, which will ensure that the Sole Diesel products within the Republic of Ireland are well represented.
Engines Plus Ltd has targeted the commercial marine market as one of the key areas to ensure that the products becomes widely accepted as it has a wide range of propulsion engines and marine generating sets which are all ideal for this market place.
As part of the expansion in to the Republic of Ireland, Engines Plus Ltd has already appointed Christopher Hannon & Co in Waterford as one of the main dealers to support the market place especially into the commercial marine market. The product fits nicely below their current product portfolio, of propulsion engines, and being able to offer both open and closed generating sets, along side their current products is ideal.
Hedley Beavis, commented "The Skipper Expo Galway this year was the ideal platform for us to re-launch the Sole Diesel product here in the Republic of Ireland, the product was well received and with Christy Hannon on board we have made the ideal start. We had plenty of enquiries which I am sure will turn into sales, and we will be back next year"